Here is the story of my new deodorant
My boy, whom I love dearly, is always finding new web sites and caused to concern him. ( How he finds these thinks I have no idea) Recently he found the campaign for safe cosmetics which basically outlines all of the unsafe products that are put into the majority of cosmetics/shampoo/deodorant that could cause cancer and are highly toxic in large numbers.
Now the boy tends to get VERY passionate about these sort of things and immediately swore off all these products and would make his own shampoo and soap from natural products. OK, I have no issue with that. But then he said that he was swearing of his deodorant as well.... that I have a HUGE problem with, I love him, I do, but he tends to get stinky. Thus my epic quest to find a deodorant that was in compliance with the Campaign for safe Cosmetics began.
After much searching I finally found one such deodorant called the Crystal body deodorant which uses Ammonium sulfate which is totally non-toxic, better yet it works. Added bonus: It is completely orderless (Unless you want it to be of course.) It goes on clean skin and keeps those nasty stinky bacteria away.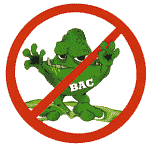 I tired it out for a few days at my place of employment, which for me at least tends to be very physically active, and it worked just as well as my old deodorant.
So I recommend you checkout the Campaign for Safe Cosmetics, support their cause and switch to less dangerous cosmetics, and deodorants.